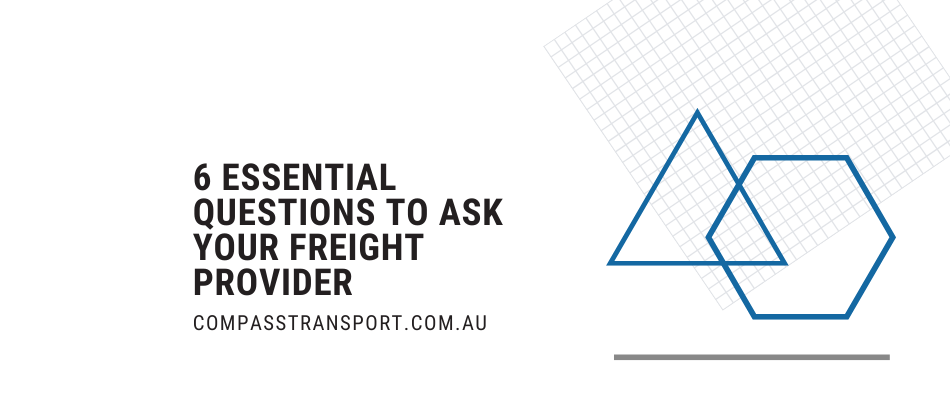 17 Jul

6 Essential Questions to Ask Your Freight Provider

Your freight provider is going to play a key role in making sure that your supply chains and fulfillment processes are working as they should be. Any business that needs their products to make it from A to B on time and in good condition knows how important this journey is. As such, to make sure that you're working with a freight company that is able to provide the quality and standard of services that you need, you should be willing to ask them the questions that matter.

Some of the questions that you should consider asking are as follows:
Are you licensed and insured?
Do you have experience with my type of freight?
How far does your company reach?
Do you operate your own warehouse?
The number one concern on your mind should be whether or not the company you're talking to is, are they legally allowed to transport your goods. Get to know what licenses they have and make sure that they match the type of services you're inquiring about. You should also ask whether they provide freight insurance to help you cover the costs of any accidental damages or loss. This is always a risk in any form of transportation but you shouldn't be forced to bear the brunt of the costs of that risk alone.
Do you have experience with my type of freight?
Every type of freight, from electronics to furniture to food to chemicals, has its own specific needs. When it comes to safe storage and movement, you should make sure that your provider has specific experience in moving the freight that you're looking to entrust them with. You need to trust that they know how to handle it because once it's in their hands, it's out of your control.
How well do they know the area?
Delivery capabilities play a huge role in the overall effectiveness of any freight provider. There are many variables which may or may not play a part in delivery expectation on any given day, and your driver / company needs to know how to navigate around these. Your freight needs might be small and specific, so you may only need to work with those who have knowledge of specific areas. However, if you plan to expand, then you need a company that can also meet your needs and be ready to help you scale your freight needs when that time comes.
Do they need to operate their own warehouse?
You might think that all freight companies would run the entirety of its own fulfillment and logistics processes. However, that's not always the case, as often pick up and delivery is done same day or next, so this isn't necessarily a deal-breaker, but you should make sure that you're able to maintain a clear line of communication with the driver or team and so you have no problem keeping in touch of needed.
Does your freight provider meet your needs?
The questions above can help you determine whether or not your freight provider is the one for you. If they can't answer the questions outlined here, it might be worth moving on to another option.