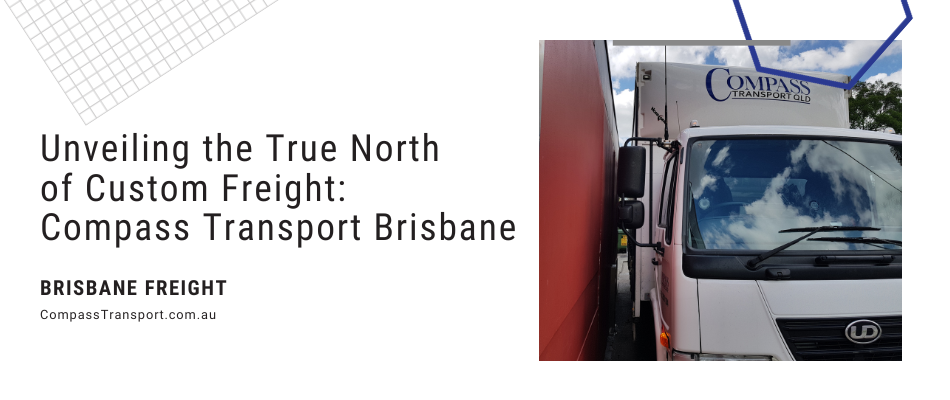 27 Sep

Unveiling the True North of Custom Freight: Compass Transport Brisbane

Hey mates! Are you tired of wrangling with unreliable freight services in the Brisbane area? Stressed about not getting your shipments on the same day? You're not alone, but there's a silver lining to that cloud—Compass Transport is here to set a new standard for you!
Your Custom Freight Navigator in South East Queensland
At Compass Transport, we believe in tailoring our services to fit your unique needs. We get it—no two businesses or individuals are the same, so why should your freight solutions be? Especially in this digital age where you're not just shipping locally, but potentially globally, your needs can vary dramatically. That's why we pull out all stops to ensure your items reach their destinations in tip-top shape.
Compass Transport: A Guide to What's On Offer
We're not just about moving numbers; we're about moving *with you*. If you're looking for a freight service that meets all your criteria, let's talk about how we can not just meet, but exceed those expectations. Here's a quick rundown of why we're your best mate in the business:
1. Speedy Gonzales Deliveries
When it comes to transport, we know that 'fast' is often still not fast enough. Our trucks are well-maintained beasts ready for your delivery challenges. Whether it's same-day delivery or prioritised express options, we've got your back—no dramas!
**Delivery Options:**
– **Same-Day:** We thrive on same-day deliveries and, unlike many other competitors, this is our standard service. Need we say more?
– **Express:** Sometimes, the same day just won't cut it. No worries! Our express service is designed to get your goods where they need to be, right when they need to be there.
– **Overnight:** For those shipments that need to go a bit farther afield, we offer overnight options, too.
2. Rugged Reliability
Our choice of truck wasn't random; we picked the Mitsubishi Fuso Curtainside with 2t tailgate lift. because it's practically built for you. Its curtainside design and flexible carrying capacity ensure that your shipment is secure and accessible, making us a reliable partner in your logistical journey.
3. Real-Time Tracking
We get it; waiting for that delivery confirmation can be nerve-wracking. But fret not! We'll keep you posted every step of the way, offering you that much-needed peace of mind.
4. Top-Notch Customer Service
We pride ourselves on being responsive and attentive to your needs. Communication is key, and we make sure you're always in the loop.
5. Flexibility is Our Middle Name
Whether it's a bulk delivery or a single package, Compass Transport has the means and the method to get it done for you.
Location, Location, Location!
Based on the Southside of Brisbane, we're locals serving locals. Our standard reach stretches from Gympie to Tweed Heads and goes as far inland as Toowoomba.
Trust in Compass
We're not just another name; we're a trusted brand when it comes to custom freight in Queensland. From individual residents to large businesses and even local government, we've worked with them all. In fact, we're the go-to transport service for one of Australia's largest food chains in the south-east Queensland area.
Let's Get Your Freight Rolling
So, are you ready to stop worrying about your freight and start focusing on your business or individual needs? Then dial us up at **0426 268 184** or shoot us an email for a free quote. We're keen to discuss your custom freight requirements, and we're confident you won't regret it. After all, with Compass Transport, you're not just choosing a service; you're choosing peace of mind.