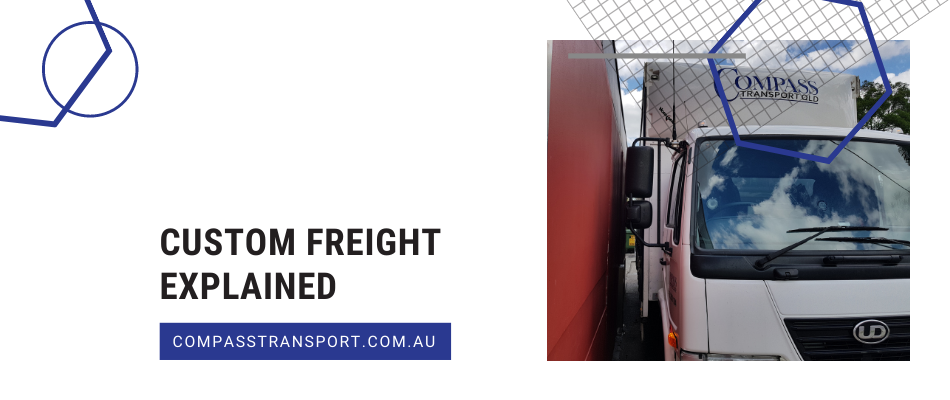 13 Apr

Custom Freight Explained

Looking for a custom freight service in Brisbane, the Gold Coast, or the Sunshine Coast? You're in the right place.

Here at Compass Transport QLD, we specialise not only in freight but also in collecting unique items that other companies may refuse. Custom freight can be a complex area to get involved in, but we simplify the entire process for you, listening to your needs and making sure that we meet your expectations. Let's take a moment to get to understand custom freight better, as well as highlighting how you can benefit from using our services!
What Is Custom Freight?
Let's start out by going through what custom freight actually is. Freight is a service that you can pay for to transport goods, cargo, or lading to a selected location. Freight can travel by water, land, or air. Some of the most common means of transporting these goods include trucks, railroad cars, and large ships carrying containers. Here at Compass Transport QLD, we specialise in land freight, transporting items from A to B in our large trucks.
Our Custom Freight Services
There are plenty of freight services out there, but we know that it can be difficult to get certain items transported, with many freight services refusing them. We specialise in picking up and delivering items that other companies may refuse. We are happy to collect items from Brisbane, The Gold Coast, and The Sunshine Coast. We're proud to have served these communities for 30 years now and have developed a bond of trust and respect with clients from all of these areas. No matter what you need to be delivered, you can count on us to complete the task to the highest standards and for a fair and reasonable price.
Why Choose Us?
We are experienced in what we do and only deliver the best service possible. With over 30 years of custom freight experience under our belts, you can rely on us to safely and quickly transport your goods, whatever they may be. When you choose us, you can rest assured that we will tick all of your boxes and leave a smile on your face. We offer fast, reliable deliveries and can often collect and deliver your items the same day, next day, or overnight, depending on what you're looking for. We also only use quality trucks. We use a Mistubishi Fuso 1124, which is a 10 pallet tautliner/curtainsider with a 2 tonne tailgate, which also features gates for added security during transport. This curtain side design offers a whole host of benefits over pantecs or those that need tarpaulins. We make sure that our truck is superior, as we expect only the best for our customers.
If our services are what you're looking for, please don't hesitate to get in touch on 0426 268 184 or send an email to info@compasstransport.com.au. A friendly and helpful member of our team will be able to listen to what services you require and make recommendations or provide a quote. Alternatively, you can request a quote on our website!