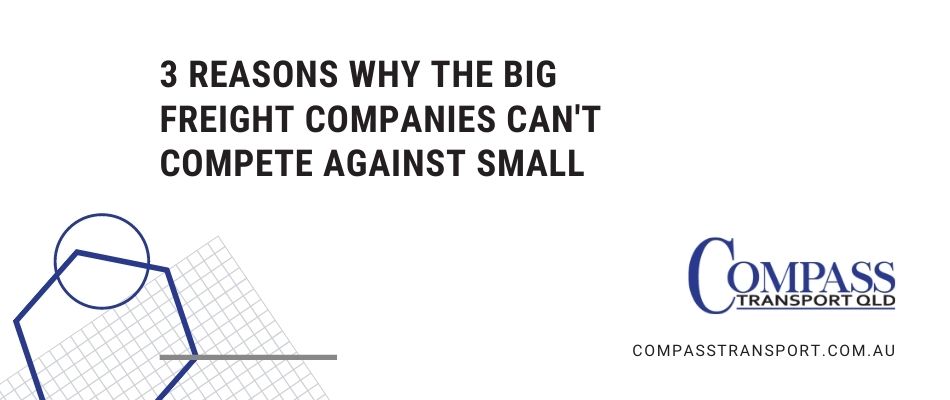 23 Jun

3 Reasons Why The Big Freight Companies Can't Compete Against Small

Choosing the right freight company is essential for commercial success. When you're relying on your cargo to get from one location to another, intact and on time, there's no room for error.

That's why partnering with a freight company you can trust will revolutionise your business and enable you to operate efficiently and effectively.

When you're looking for a freight company, it can be tempting to go straight to the 'big name'. However, larger freight firms simply can't compete with smaller, specialist freight companies, and here are just three of the reasons why…
1. Customer Service
Whether you're a regular user of freight services or you only need a freight company once in a blue moon, you deserve exceptional customer service and small companies are in a position to offer just that.
The sprawling infrastructure of a major freight firm inevitably means that, as a customer, you're nothing more than a number. If we're being completely honest, a larger freight company isn't going to worry about losing your custom, which means you're at risk of receiving poor service, late arrivals and damaged cargo.
In contrast, a small freight company values your custom. With the freedom to really get to know you and your business, a smaller freight company understands your objectives and works with you to help you achieve them.
2. Experience and Expertise
Large companies generally have a much higher rate of staff turnover. This means you'll be dealing with people who have limited experience within the industry or no experience at all. Of course, it takes times to really get to know the ins and outs of any sector, so minimal training and a lack of experience could really hamper the service you receive.
With a small firm, however, you can be sure that the people you're dealing with really know their stuff. At Compass Transport QLD, for example, we have over 30 years' experience in the freight and logistics sector – and it shows in everything we do.
Perhaps you already know exactly what freight services you need? If so, a small freight company can literally put their wheels into motion and get things moving. However, if you're unsure what type of transport is appropriate or what the best service for your needs is, the expertise of a small firm is invaluable.
With extensive knowledge of industry regulations, transport limitations and cost-effective logistics options, a small firm can share their specialisms with you and help you find a freight solution that works for your business.
3. Accountability
Regardless of what industry we're talking about, have you ever managed to speak to the same person twice when contacting a large company? Neither have we.
When it comes to accountability, large companies have a lot to learn from their smaller competitors. When you engage with a small or mid-size company, the staff you speak with know your name, your business and your needs. What's more, you know exactly who they are and how to contact them.
Whether you need a last-minute change to your services, an urgent same-day freight service or you simply want to plan your upcoming logistics, you can liaise with the same employees every time you get in touch.
This ensures a seamless service every time. Instead of having to regale your needs to a different call centre employee every time you try to book a service, you can simply get in touch with a well-known employee and let them know what you need when you need it.
Choosing the Right Freight Company
With so many advantages associated with working with small freight companies, it's not surprising so many people are choosing to seek out niche firms. Combining expert knowledge, outstanding customer service and complete transparency, smaller firms provide the honesty and integrity you need.
When other businesses choose a freight company, it's easy to underestimate the impact it will have on your own success. A quick online search for the cheapest rates is often all people will do before booking a freight service. However, your own company's operations and reputation rely on this third-party service. Furthermore, a break in your freight chain could prove to be extremely costly.
With so much at stake, is it worth risking your livelihood on a large company that pays little attention to your needs? Not so much. If you're looking for a freight partner that will provide a reliable, reputable and consistent service, a smaller company can offer exactly what you're looking for.
To find out more, contact Compass Transport QLD on 0426 268 184 or email us at info@compasstransport.com.au now.