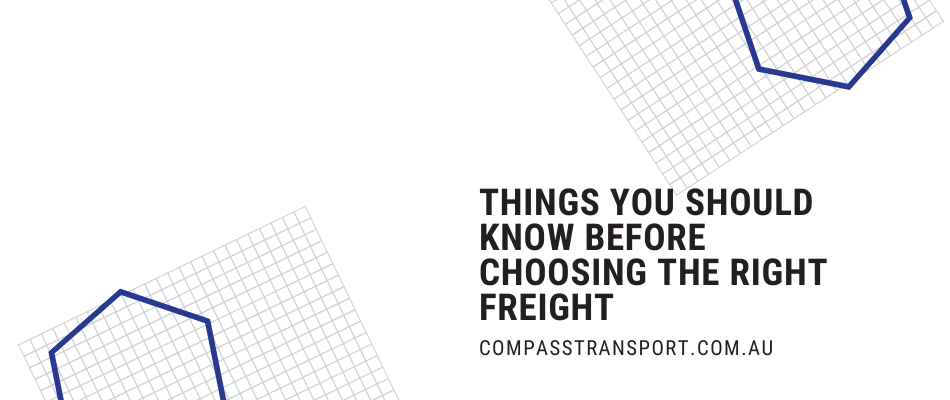 03 Aug

Things You Should Know Before Choosing The Right Freight

Before choosing your freight company, you need to know what services they offer and where they will deliver.

There is no job too big or too small for us. We have completed cross-country freight as well as locally within city freight. Understanding that the world is changing to an online world, and more purchases are made online means that freight is becoming relied on more than ever. This is why we believe in custom freight ensuring safe transportation for any of your items and needs.

Being a custom service we offer different types of service to suit you with a next day delivery option for quick and easy results. We offer same day delivery which means we will deliver your parcel the very same day.

However, if same day isn't soon enough we offer express delivery which means we will endeavour to get the freight transported as soon as we physically can. This option is not available by every freight company and it shows our customers how keen we are to ensure our service works for you. We also offer overnight freight as an option for services further afield.
What knowledge and experience does the company have?
As an independent freight specialist with over thirty years experience, we can be totally customised to your needs. Having been in the industry for so long, there is very little we haven't transported!
Being an independent customisable freight service means we work around you. Having the ability to fit your every need and want is what we pride ourselves on.
Our business ethos is centred around customer service, therefore we want your experience with us to be as smooth and simple as possible, no matter the time of night or day. Having worked locally in the Brisbane area for many years, we are adept at choosing the most direct route to enable safe and secure freight transportations. Having come from a background as an express courier, this type of work flows in our blood and is our genuine passion.
Is the company fully flexible?
As a company, we make sure our customer's individual needs are met, and we strive to be fully flexible. Being able to meet our customers needs is something we are known for as a company.
Customer service is at the heart of our business and there is nothing we cannot do in terms of hauling freight. No job is too late or too long for us as a company, the same is no job is too short. We offer freight within the same city or long haul freight, we have extensive knowledge of Queensland, Brisbane, The Gold Coast, and The Sunshine Coast, however, we are more than happy to travel further afield.
What about customer service?
Customer service is where we base our ethos. We know how hard it can be to obtain good freight, and we understand the need for continued professional relationships with our customers. We understand our customers are our bread and butter and we need them as much as they need us.
That is why we are fully flexible and encourage all orders of all types of freight. Our customers consistently provide excellent feedback for our services and we are extremely proud of this.
Will my items be delivered safely?
Having extensive industry experience and knowledge, we know we will keep your items safe and intact from start to finish within our service. We are confident in our storage and travel facilities, that we will be able to treat your items as you would want them treated. From the feedback from other customers, they are extremely happy with our ability to keep their items safe. Being a custom freight service we adjust our services to you, so no items are too big or small for our freight transportation.
It is really important to us that our customers trust our ability to deliver our services safely and effectively. Our customer service is excellent and this is why we continue to grow as a company and we consistently prove our service through our work ethic. Our customer reviews really speak for the ability of our company and the fact our customers are repeat customers is fantastic. We treat our customers as customers should be treated and nothing is too much for us.
If you have any questions or would like a quote for your freight needs please do not hesitate to ask via the contact section on our website.