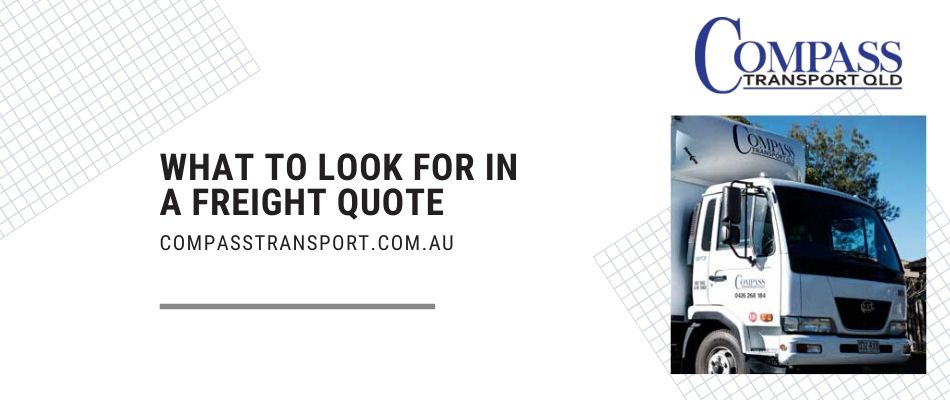 07 Jan

What to look for in a Freight Quote

If you're looking to ship freight, it's always wise to get a series of quotes before you decide which company to choose. While sending an item may appear straightforward on the surface, there are often complexities and regulations that make the process more convoluted. Obtaining quotes based on your individual requirements can help to save time and effort and ensure you understand exactly how much it's going to cost you to send your shipment. If you're thinking about asking for quotes, here's a handy guide to what to look for.
What to look for in a freight quote
If you have goods ready to send, the next step is to obtain a freight quote. This will give you an accurate idea of how much the shipment will cost. If you are looking for quotes, it's beneficial to have information to hand to ensure companies can provide you with a detailed estimate as quickly as possible.
To request a quote, you'll need:
Contact details: your freight company will require the contact details of the person or company sending the shipment, as well as the intended recipient. This information should include full shipping addresses including the postal or zip code, as well as the port of origin.
Dimensions: a freight company will need to know the exact dimensions of each item you plan to ship before providing a quotation. The size of the load, combined with the weight and the destination, can affect the cost. Dimensions should be provided in centimetres, and they should be 100% accurate. Estimating dimensions could contribute to inaccurate quotations and potential delays in the shipping process. When requesting a quote, customers should provide the length, width and height. If you plan to send a number of items that are not packaged together, you will need to supply this information for each individual item.
Weight: the total weight of the shipment will be requested before a quote can be provided. This should be recorded in kilograms. The weight of the load may impact the price, so it's important to provide an exact figure, rather than an estimate.
Collection details: your shipping company will ask you when collection will be required from the given address.
Delivery details: you will be asked to provide details about delivery speed and time-frames, so that your shipping company knows how fast they need to process the shipment.
Product description: there are shipping regulations in place, so it's wise to be prepared to answer questions about the type of item and to provide descriptions of products contained within the shipments.
How to choose the right freight company
Obtaining quotes is a useful exercise, not only because it enables customers to compare prices, but also because it can offer an insight into how different companies work and the level of customer service they provide. For many businesses and clients, the cost will be a significant factor, but this shouldn't be the only consideration.
Here are some tips to help you choose the right freight company:
Specialist services: in some cases, you may be shipping a load that doesn't match the criteria covered by some freight services. If you have a special load, you'll need to find a company that has expertise in delivering the kinds of items you plan to ship.
Geography: some freight companies have a specific area in which they operate, rather than a global reach. Research which firms cover your desired destination before you obtain quotes.
Customer service: if you have goods that are ready to ship, you want to ensure that your shipment reaches its destination as planned without any hiccups. You might also want to take advantage of the customer service perks offered by some freight carriers. Large-scale companies are often famed for their ability to cover a lot of ground quickly, but they tend to prioritise customers who offer the most in terms of business. Opting for smaller firms often results in receiving a personalised service, which appeals to small and medium-sized companies. If you contact several freight companies for a quote, and some never get back to you, this is a clear indicator that you might not receive the level of customer service you expect.
Value for money: when reviewing and comparing quotes, try and avoid zoning in on the price, and look for value for money instead. The cheapest price doesn't always represent the best value for money. You might find that you can secure a slightly better deal or a more comprehensive service by paying a little more than the lowest quote.
Reputation and track record: before you decide which company to choose, take a moment to research track records and read client reviews.
If you're looking for an affordable freight quote from a company you can trust to deliver every time, why not contact Compass Transport today?