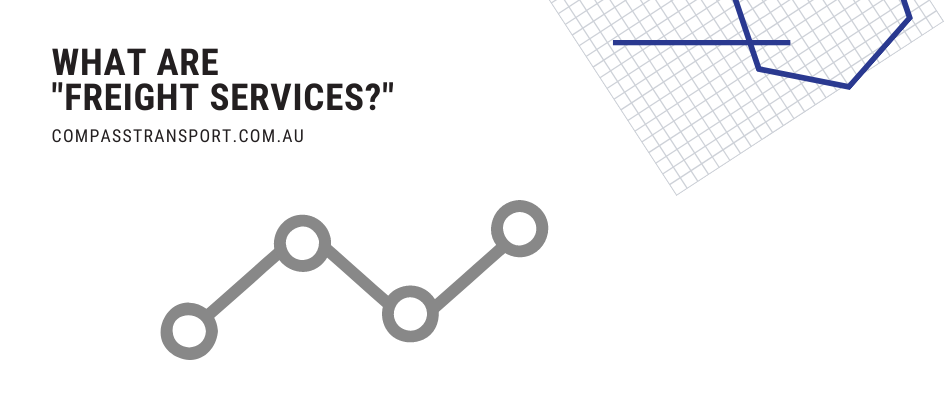 22 Oct

What are "Freight Services?"

A freight service uses a range of freight companies to move commodities or cargo by air, land, and sea. If an individual or an organization should need to use a freight service, the shipment has to be large enough to exceed 150lb. Goods are shipped by any of the ways we mentioned, and they are loaded up and moved from A to B. The range of different transportation types means that there are certain benefits of choosing one over the other, but it really depends on what will suit whatever it is that you are moving to in the first place.
Freight VS Parcel
Freight services don't cover the shipment of parcels. Freight shipping differs from parcel delivery, as smaller parcels are shipped individually and are handled by common carriers such as UPS and FedEx. These are shipments that are so much lighter than the standard freight pallets that go out via air, land, or sea. They max out at 150lb, and individual shippers are able to head to the local drop-off points or parcel facilities to send a parcel. Couriers are also able to send parcels and they do so via smaller vans or trucks. Anything that doesn't fit onto these two modes of transport is considered categorized for freight services, which means that they need a larger vehicle.
Most parcel delivery services will use ground services. This is because these are largely domestic deliveries rather than overseas ones. There are some customers, however, that will use bigger, expedited courier services for smaller shipments. This is where next day delivery tends to shine! With freight services, multiple transport types are involved for larger scale goods. These are the types of goods that have pallets filled with business products or crates stacked with machinery parts. Pallets are the go-to for freight services because of the fact that they are stable, easy to move, and offer the product's protection.
It makes sense, then, that freight services Brisbane are useful when it comes to the shipment of cargo and goods that are usually oversized.
Industries Using Freight Services
Almost every large industry requires shipping to send products to consumers, to other businesses, or to other manufacturing areas for production. Freight services Brisbane are extremely important for a range of industries, and whether it's due to safety, timing, or temperature control, freight shipping is vital! Some of the industries that require freight services include:
Healthcare. Medical clinics, hospitals, and more require freight services for the movement of emergency supplies, lab specimens, and even medication movement. Freight services save the healthcare industry a lot of money as services are streamlined.
Retailers. Ecommerce stores are growing fast, and finding the right solution for freight services is important. From toys and clothing to furniture, no matter what eCommerce stores sell, freight services can move it around to where it needs to be. Companies often plan ahead when it comes to freight services in Brisbane, so that they can find the best route and the best mode of transport to ensure that their products are on time.
Manufacturing. Freight services for the manufacturing and industrial industries can help to cut down any unnecessary costs that can arise from things like missed deliveries and non-optimal travel routes.
Automotive. Frequent freight services are required by the automotive industry due to the pressure within the production and distribution cycles. There is a need for parts to be shipped quickly and these are expected to arrive undamaged and on time.
Available Freight Services
If you are looking for freight services Brisbane, it's important to figure out whether you need road, rail, ship or air freight services. Figuring out the type of services that meet your needs will help you to get your freight to where you need it to go at the right time at the right cost. Rail is a useful option if you're transporting large goods, and sea freight services are cost-effective if you're moving products overseas. Finding the right freight services is vital if you want your products to get where they need to go. If you're sending by air, you'll get the fastest shipping but it won't always be the cheapest around.
At Compass Transport, we specialise in freight services around Brisbane and Southeast Queensland. We can offer same day, express, and overnight shipping by road, and our drivers are experienced, professional, and on-time – every time! Talk to us today about your need for freight services Brisbane. Let's get you moving in no time at all.