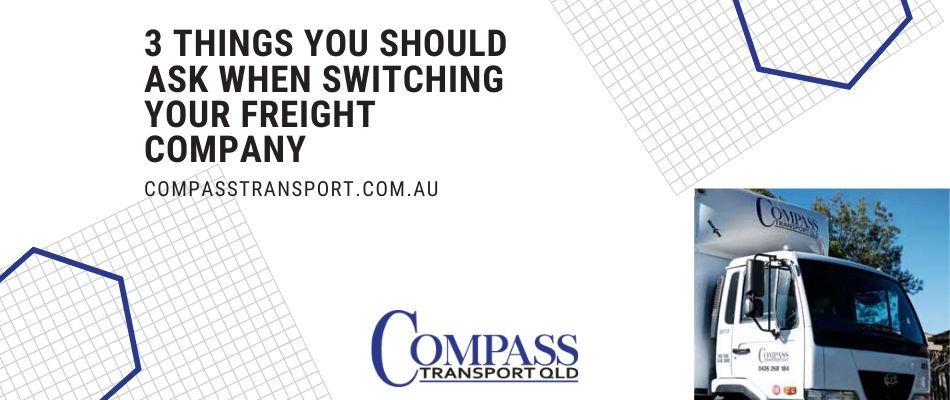 25 Feb

3 Things You Should Ask When Switching Your Freight Company

If you have realised that it's time to switch your freight company to a different provider, you will need to ask some key questions. Although there are some questions that you might want to ask yourself, you will also want to ask potential new freight providers some important queries too.
What Services Do You Offer?
Of course, the most important thing that you need to determine is the scope of services that the freight company offers. You need them to be able to meet your needs in terms of types of goods being transported, distance, and deadlines. Freight companies can offer a variety of options to help you get your freight where it needs to be at the right time.
Some of the services that you might want to enquire about include different locations. Do you need a full national or even international network? You should also consider the timeframes within which a company is able to take and deliver your goods. Do they have express services, such as overnight delivery and same-day delivery, so that you can prioritise your deliveries? It's important to know what their services consist of too. Be sure to ask freight companies that you are considering what is included in the price that they quote you.
The cost of services isn't to be forgotten. You need quotes from freight companies if you want to be able to compare them properly. Get quotes for different services so that you can understand which freight providers and which services can offer you the best value for money. It's important to understand which freight companies can meet your needs and provide services that are budget-friendly too.
How Do You Provide a Reliable Service?
In addition to finding the correct types of service, you need to be able to find a service that you can rely on. This means knowing that your shipment is going to reach its destination on time and that it is going to be safe and secure until its arrival. There are various things that you might enquire about to check that a freight company can offer you a reliable service.
Firstly, you might be interested in learning more about their vehicles. The trucks that a company uses can make a significant difference in the level of service they are able to provide. You can take some time to understand the trucks that they use and how they might offer a benefit over other options. Consider factors such as how efficient their trucks are, how big they are, and the weight limits they carry. Reliable drivers are also essential, so make sure that all drivers are licensed, experienced, and trustworthy.
In terms of technology, you might want to ask about tracking your orders. Being able to track where your goods are can give you peace of mind and keeps you up to date about the position of your goods. It's also an excellent way to judge the efficiency of a freight company, allowing you to monitor the performance of their drivers and ensure they meet their targets. Another way to check that a freight company can offer you reliable services is to check out their reviews and testimonials. Past and current customers can give you a good idea about whether they have received freight services that meet their needs.
How Can You Beat My Current Freight Company?
When you're looking around for a new freight company, it's worth asking them what they can deliver that your current freight company can't. If you're going to go through the effort of switching to a different service provider, you want the new options to present advantages over your existing provider. Of course, you can do plenty of research yourself by looking at the freight company's website and other material that will tell you about what they offer.
It's also a good idea to ask them outright what they can offer that your current freight company can't. They may be able to explain to you how they have the edge over their competitors so you can see the difference that they are able to provide. For example, perhaps they have faster delivery options, larger trucks, or extra features such as tracking for orders. They might also specialise in a certain type of shipment, making them ideal for your needs. For example, Compass Transport QLD delivers a range of commercial kitchen equipment and can also help with pallet deliveries, long lengths, and goods that other shipping companies won't touch.