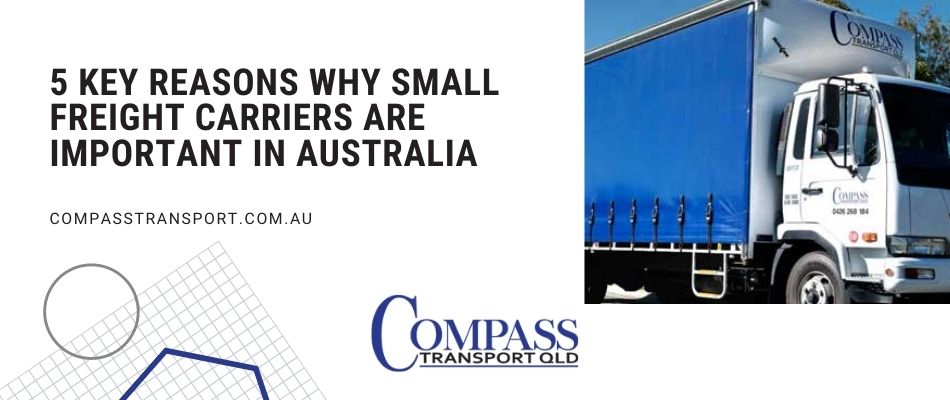 05 Jan

5 Key Reasons Why Small Freight Carriers Are Important In Australia

Australia is a sprawling country with vast swathes of National Highway as part of its Land Transport Network. It is no surprise, therefore, small freight carriers are a crucial component of its national infrastructure. Small freight carriers transport a huge variety of items around the country and are vital for the smooth running of many of Australia's most prominent industries. There are several reasons why small freight carriers are key to Australian business, but here are five of the best.
Same Day Collection and Delivery
With the expanse of digital technology, making many sales possible with just a few clicks, fast service is now an expectation for any successful business. Small freight carriers offer this convenience with the ability for same-day collection and delivery. Previously you might have waiting weeks or months for a part to arrive so an oven can be fixed or even for a large and bulky object like an industrial freezer to arrive. But now, with delivery the very same day, a restaurant would no longer have to close while waiting for a replacement. Results like this mean small freight carriers are not only incredibly efficient, but crucially, they can also affect the bottom line for a business.
Ships All Shapes And Sizes
We have all been there, trying to squeeze that extra-long object, whether a bit of pipe or garden fence, into the vehicle and it just won't fit. Whether renovating a house or developing a new commercial unit, there will be occasions when size does matter. Small freight carriers are optimal for keeping an object intact no matter its shape or size. While materials can be tightly packed in pallets, many other items that small freight carriers transport can be considerably more awkward. Small freight carriers with tailgate lifters can easily load heavy materials. Tautliners that open up the sides mean that objects can be loaded and unloaded, not in the order they were packed and can allow for awkward shapes to be loaded with relative ease.
Multi-Drops
One of the biggest benefits a small freight carrier can offer a business in Australia is the ability to undertake multiple deliveries within one order. This is essential if you are a supplier looking to provide numerous outlets with a new product quickly. It is also great if you have a complicated supply chain and you need to roll out updated equipment or branding. If your business operates throughout a region, the reliability of a multi-drop delivery means you can be confident in the consistency of product supply across your stores. Multi-drop could also be utilized for a variety of different objects, so if you operate a chain of car mechanic stores, for instance, you can deliver bespoke parts to each outlet as needed. This can allow you to centralize your storage or to remove the necessity of needing to hold duplicate stock in numerous locations. The speed of same-day delivery combined with the multi-drop can, therefore drastically cut prices for a business operating out of multiple locations.
Reliability
Small freight carriers are incredibly reliable. They have experience of transporting goods across their regions and therefore have expert knowledge of the locale. Alongside this, they can offer flexibility in their service. For instance, while they may provide same-day delivery a standard they can also offer express delivery for instant fixes to any problems a business might run into. They can also provide overnight services that allow goods to be transported longer distances if needed.
The Difficult To Handle Stuff
Many different forms of shipping may refuse to carry some items, such as dragline motors used in the mining industry. While these materials may not be transportable on other forms of haulage, reliable and trusted small freight carriers could transport these goods with little hassle for the customer. Small freight carriers lead the way in this type of speciality service and can provide bespoke door to door delivery for these items. If a carrier cannot handle a good, they will be able to put you in touch with a company that specializes in this area.
There is little doubt that small freight carriers are the lifeblood of many Australian businesses. Whether your business is in the remote wilderness or the middle of a huge population centre, a good small freight carrier can be your connection to your customers, clients and suppliers all across the nation. Take time to find who the trusted small freight companies are in your area, and you will find a business partner that is ready and willing to help your organization grow and thrive.