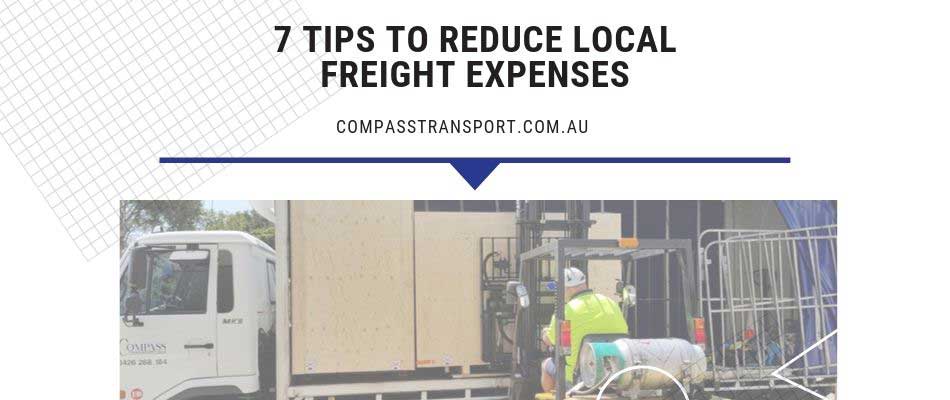 23 Sep

7 Tips to Reduce Local Freight Expenses

Freight expenses are often overlooked by businesses in Brisbane and the surrounding areas. Unfortunately, wasting money here will significantly increase your overheads, which will harm your bottom line. Given that this is an aspect of the venture that doesn't even impact product quality, it deserves your immediate attention.

Here are seven simple tips to reduce the costs associated with local custom freight assignments.
#1. Encourage Bulk Orders
Shipping a single large shipment is far more efficient than shipping the same number of products split across three or four different orders. Therefore, you should try to find ways of encouraging clients to place larger orders rather than several orders throughout the month.
One of the easiest ways to do this is by offering free delivery once they spend over a certain amount (perhaps AU$ 200) on a single order. In addition to reducing the freight delivery costs, this can be a great way to promote simpler order management, which can save time and money too.
#2. Outsource To An Expert
It's only natural to think that taking a DIY approach to deliveries will be the best solution. Aside from the initial outlay connected to buying a fleet of vehicles, the ongoing delivery costs can be significantly more expensive than paying a professional freight logistics company to handle the task.
Aside from boasting the experience needed to work in a faster and more efficient manner, dedicated couriers can find the best type of transport and potentially consolidate your orders with another companies to ensure that the best prices are available on every shipment you send.
#3. Change Your Packaging Methods
The choice of packaging materials is one of the most influential features of the entire local freight processes. For starters, finding a cheaper supplier of the goods that you intend to use will generate an instant saving that you can continue to enjoy for many years.
Perhaps more importantly, you should aim to find the most efficient options in terms of size. When your approach to packaging allows you to increase the volume of products on the truck by 10%, this will translate to far lower shipping costs. On a side note, it'll be good news for the environment.
#4. Utilise Off-Peak Shipping
It doesn't take a genius to realise that peak shipping costs more than off-peak shipping. As such, shipping off-peak (Fridays usually fall into this category) can be a great way to save money. Backhaul shipping, where couriers fill empty spaces on their trucks, is another great solution.
Either way, using this method for standard shipping can be one of the most effective tools at your disposal. Some clients may require immediate shipping but will need to pay for this privilege. If customers are not in a hurry for their products, there's no need to pay extra for peak shipping.
#5. Be Ready For Loading
Couriers and freight services need to factor in the loading times into their costs. The general rule of thumb is to allow for a two-hour loading time. If you can prove that your staff will have containers ready to be loaded, it might be possible to cut the loading times in half. This can bring a saving.
If the carrier knows that they'll spend an hour less on your premises with every shipment, they can organise a cheaper rate. In truth, this is just one example of developing positive relationships to reduce your local freight costs. The value of a winning bond should not be ignored.
#6. Choose a local courier
As well as the time spent at your site, carriers will consider the time it takes to get from their location to yours. As such, finding a company with a strong presence in Brisbane and the wider Queensland area is essential. Failure to do this can lead to unnecessary costs.
Aside from the direct costs, having a local courier on your side makes sense from a practical perspective. There will be fewer delays due to traffic while their understanding of the local area is great news for you as well as your end clients.
#7. Analyse Your Data
Modern inventory management is more advanced than ever before, incorporating artificial intelligence, machine learning, and a range of analytical tools that can pinpoint exactly where you are currently wasting. Use this insight to make smarter decisions and overcome waste.
Every business needs to find its own road to success in regards to local freight services. However, allowing automated computer technologies to provide guidance is one of the smartest moves you'll ever make. If nothing else, it'll allow you to act with confidence.