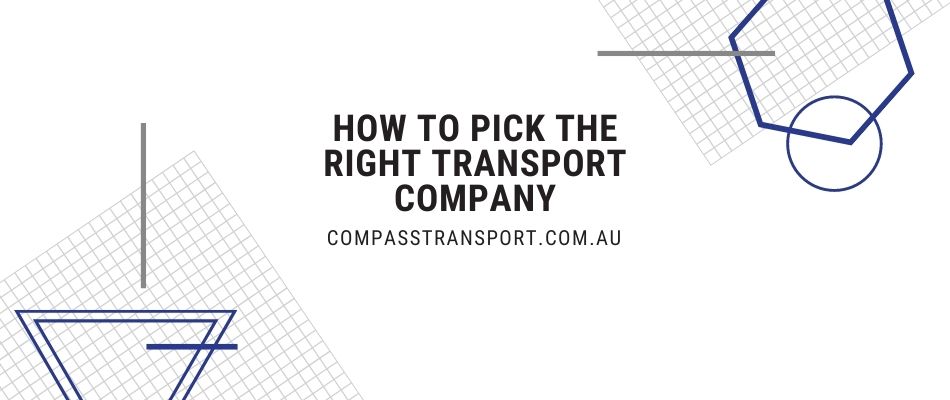 06 May

How to Pick the Right Transport Company

For businesses, picking the right transport company is essential. You need a partner you can trust to deliver reliable services day in, day out. After all, your enterprise depends on it!

But finding the right freight company can be a challenge. They might have great marketing and a slick sales pipeline. But, ultimately, what you care about is the quality of their services. 

In this post, we provide some pointers for how to pick the right transport company. Check them out below:
Check Their Accreditations
Ideally, freight services should have accreditations. They should be members of the National Heavy Vehicle Accreditation Scheme and schemes in their particular states (such as the WA Heavy Vehicle Accreditation Scheme). 
While being a part of a scheme is no guarantee of quality, it is a good indicator. Companies that take the time to become accredited often have attributes, like conscientiousness, which makes them better business partners. 
Check Their Resources
Most freight companies specialise in particular types of business services. So, for instance, you might have a transport service that caters to small businesses requiring low-volume shipments. 
When approaching a transport service, therefore, it's critical to check their capacity. Can they scale as your business grows? If not, it might be better to use a different provider from the outset, instead of switching halfway through. 
Check They Ship Your Items
When shortlisting freight companies, be sure to check they actually ship the items you want them to transport. Also, ask them if they are able to cater to the volume of goods you require. Some freight companies may place caps on tonnage. 
Check Their Experience
While accreditations are a good place to start, they're no substitute for general experience. The more logistics knowledge staff have, the better they can serve you.
Unfortunately, many firms lack experience. One reason is that many freight companies are new. Entrepreneurs can set up a freight service at surprisingly low cost, meaning that the barriers to entry are low. 
Another reason is that transport firms can sometimes lack niche expertise. For instance, they may know how to provide a quality freight service to some industries, but not others.
Businesses seeking transport companies should, therefore, look for services that specialise in their requirements. Quality firms have processes that allow them to adapt to your specific transportation needs. 
Check That They Observe The Rules
Even with accreditation and experience, not all transport companies observe freight rules and regulations. And that can put your business at risk. When brands don't observe the restrictions, it can lead to fines and safety hazards. 
Most transport companies can accommodate palletised and loose items. However, you will need to check that they can cater to more specialised goods, such as cars, toxic goods and dangerous goods. For each of these cases, the freight service must follow specific regulations. Failing to do so could lead to loss of the cargo and a danger to life. 
Check Their Bandwidth
Checking the capacity of the freight company before working with them is standard practice today. But few firms consider "bandwidth" – an equally critical metric. 
Bandwidth and capacity are two entirely different concepts. Capacity refers to the volume that a freight company can deliver over, say, a month whereas bandwidth refers to the transport facilities currently available. 
So, for instance, suppose you need to transport 1,000 pallets of salt. Usually, that will be no problem for a freight provider. They simply timetable collections and deliveries, ensuring that they meet demand over the course of a month. 
However, now suppose that you need to distribute your salt quickly, all in one go. Even if they have capacity, some freight companies may struggle with this, potentially leading to lost revenues and profits. 
Fortunately, checking bandwidth is simple. Just ask them how many trucks they can make available in, say, two hours or twenty-four hours. Then compare that to the peak demand you require going forward. 
Check How They Communicate With You
In logistics, communication is everything. So checking how your freight service provides you with information is critical. 
Quality providers offer full tracking. This service shows you where your freight is right now and shows when it will arrive at its destination. It allows you to plan ahead and direct staff to the proper location. 
Some providers also include advanced website tracking apps, showing you the location of trucks in real-time. These systems collect GPS signals and then use them to create a logistics map, giving you a helpful overview of your current situation.