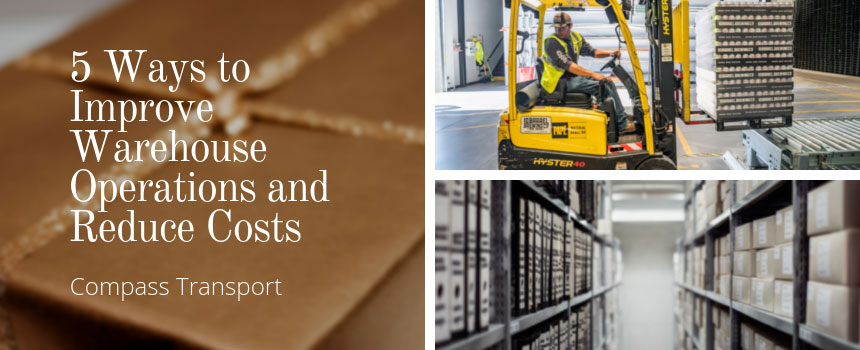 07 Jun

5 Ways to Improve Warehouse Operations and Reduce Costs

If you run a warehouse, you will constantly be on the lookout for different ways to improve the efficiency of your operations so that you can, in turn, lower your costs.

There is more pressure to do this than ever before when you consider consumer demand and the booming e-commerce sector. With that being said, read on to discover five things you can do to improve warehouse operations and reduce costs.
1. Incorporate a Warehouse Management System (WMS)
There is only one place to begin, and this is with investing in the latest technology for your business. There is no denying that technology has completely changed the way we go about our business. You won't be able to achieve optimal efficiency levels if you do not have a Warehouse Management System (WMS) in place. Your WMS will enable you to automate parts of your business so that you can run more efficiently. You can save yourself a huge amount of time and money, especially if you have high-volume shipping operations. Not only this, but you can boost accuracy too. This is because the software you install will give you greater visibility when it comes order picking and shipping, as well as inventory counts, so that the movement of goods and parcel management is streamlined.
2. Implement strategic visuals
Another tip when it comes to boosting the efficiency of your warehouse is to implement strategic visuals. Visual communication is a pivotal element of any lean warehouse system. By making sure that your workers have vital information when and where they require it, you can lower errors and minimise waste, which results in reducing your expenses. Using clear and effective signs and labels makes a bigger difference than a lot of warehouse managers realise. Plus, you can easily use this as a branding tool too, making the signs unique to your business. For quick and simple recognition, use symbols, images, and other eye-catching graphics.
A colour-coded floor marking system also comes recommended, as this will enhance safety, efficiency, and organisation from all angles. You can use floor tapes to mark pipes and walls, cordon off areas that are hazardous, and designate inventory and storage locations. Plus, printed tapes and large floor signs will improve safety and boldly communicate PPE reminders, approaching hazards, and communicate critical procedures.
3. Conduct continual training
A lot of warehouses today are feeling the impact of a lack of training. It can be easy to put training off or to assume that it is unnecessary. However, poor warehouse safety and improper training can lead to worker injuries and even death. After initial training, it is vital to make sure that workers meet with you on a periodic basis so that concerns can be shared and ideas for improvements can be discussed. After all, what was safe a few years ago may not be considered safe today. This is only going to continue to be the case as humans and technology become more intertwined, meaning our processes change, and highlighting the further need for continual training.
4. Make changes to your inbound supply chain
There are a number of different changes you can make to your supply chain in order to boost efficiency. You should consider scheduling inbound purchase orders so that you can manage the receiving at your yard/dock better. Other options include developing vendor compliance policies, including drop ship vendor standards, as well as product packaging and labeling, importing and routing guides, quality and item specifications, on-time delivery, and purchasing terms and conditions.
5. Consider incentive pay
Last but not least, it is certainly worth considering incentive pay if this is something you do not offer already at your business. Properly engineered incentive pay based on performance can often bring about the largest percentage of improvement in terms of the productivity of your workforce. More than half of your workforce in your warehouse will be involved in pick and pack, making this a great place to start. However, make sure you do not end up simply paying for productivity that you are already getting or that you could get in other ways, or you will merely be spending extra funds for no reason.
So there you have it: five different ways that you can improve warehouse operations at your business and, in the process, lower your costs. There is no denying that warehouse managers are under more pressure than ever before when it comes to reaching consumer demand. However, if you follow all of the steps that have been mentioned above, you can give yourself the best chance of boosting your efficiency levels.