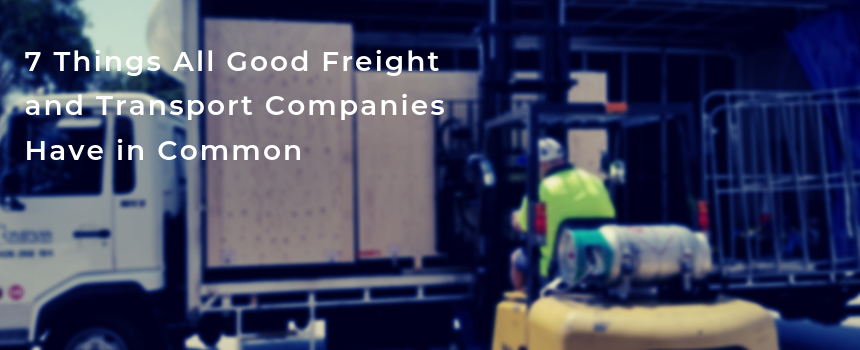 27 Dec

7 Things All Good Freight and Transport Companies Have in Common

If your business has products or materials that need to be taken from one place to another, then the chances are you'll be looking for transport companies to help you out. Especially when your goods have to travel long distances across the country!

Needless to say, there are plenty of Brisbane freight companies out there that claim to provide an excellent service for you. So, how do you separate the best from the rest? In essence, you need to watch out for these seven things that all good freight and transport companies have in common:
    Decades of experience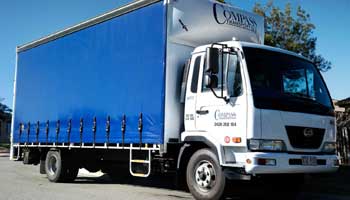 When you trust transport companies to carry your products, you need to be confident that they actually know what they're doing. As a result, experience becomes a vital trait. All of the best Brisbane freight companies can boast decades of experience in this industry, proving that they're capable of handling this type of work. A company that hasn't spent years plying their trade in the transportation industry might be unaware of certain things or secrets that can make their service more professional and affordable. With experience, a company slowly learns the best practices of carrying freight, enabling them to do so with more efficiency and professionalism.
Here at Compass Transport, we proudly boast over 30 years' experience as one of the top transport companies in Brisbane. We pride ourselves on being able to call upon past experiences to help us with current jobs. It means we've learned the tricks of the trade and have a real understanding of different routes around the country. As a result, our experience lets us transport your products in less time and with everything safe and secure.
    Versatile carrying capabilities
Understandably, there are businesses out there with products that are far different from others. Some of you may have very small items in neat envelopes that need to go from A to B. Others might have massive products like mining gear of thick piping that need to be moved securely to another location. Carrying these things is vastly different because of the size and weight of the products. As a result, you need to find a freight company that has versatile carrying capabilities and can handle all sorts of products and items. This leaves you safe in the knowledge that they'll be able to carry your freight with absolute ease, regardless of the shape or size.
Thanks to our years of experience, we've carried a plethora of products in our time on the roads. At Compass Transport, we're confident that we've delivered pretty much everything you could possibly imagine. We're one of the most versatile transport companies in the Brisbane area, and it's our promise that we'll go out of our way to carry your things no matter what they are!
    Same-day delivery options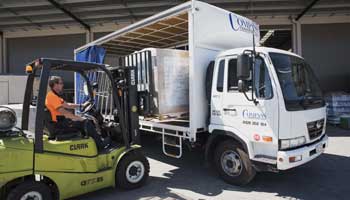 If you're searching for transport companies, then this tells us you need to move something pretty fast. Speed is everything in the business world, and you can't afford to wait around for your products to make it to their final destination. As a result, you need to find a service that's very fast and can provide a variety of delivery options. All the best freight and transport companies in the world have one thing in common; same-day delivery! It's a telltale sign of a professional company that means business as they can move and transport your goods, so they arrive on the same day as they were loaded onto the truck.
With same-day delivery, you're never left waiting around for your items to reach the location of your choosing. It's far more convenient for your business as you don't waste a day or two with nothing to do because you're trying to track the movement of your freight. Our company is same-day delivery specialists, and we provide same-day collection/delivery as our standard service. It's one of our personal guarantees that your shipment will be with the recipient on the same day. Not only that, but we also provide Express Delivery – which is an even faster delivery service! This lets you pick and choose where you want your shipment to be delivered and the time you need it there.
    A wide delivery range
Naturally, your business needs to move shipments from one place to another. So, it becomes essential that the transport companies you're looking at will cater to your needs. Essentially, all the good Brisbane freight companies will have a wide delivery range that extends beyond the main city borders.
As a Brisbane transport company, Compass Transport is right at the heart of the city. We're very proud to serve the local area and will transport loads throughout the city for businesses and local residents. Not only that, but our service area extends beyond the city limits and throughout the Queensland region. We regularly delivery shipments as far north as Gympie on the Sunshine Coast, as far south as Tweed Heads on the Gold Coast, and inland as far as Toowoomba. Additionally, we provide overnight shipping services for clients with needs outside of our primary service areas. With connections across Australia, we can deliver this to both Sydney and Far North Queensland as well.
   

Exceptional customer service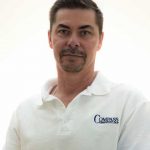 There's no point in dealing with any company if they don't have exceptional customer service. What separates the excellent freight and transport companies from the rest is that they put you above everything else. Your needs should be the main priority, with the rest of the service built around them.
This is something that our freight company takes very seriously. Our primary company policy is customer service – we never want to let you down! This is why we provide a range of delivery and shipping options, along with our ability to carry just about anything. We encourage you to talk to us and give as many demands as possible; it's our job to make everything happen and give you the best outcome.
    High-quality shipping trucks
Before you even think about paying someone to deliver anything for you, there needs to be some assurance that everything is well protected and secure. This all comes down to the trucks chosen by transport companies. There are many out there, but some are much better than others. A key sign that a freight company can be trusted is that they use high-quality shipping trucks with a range of protective and security features.
The trucks we use are the Mitsubishi Fuso Curtainside with 2t tailgate lift, which is a 10 pallet tautliner/curtainsider. It comes with gates that add extra security during transportation, and the curtainside design is unique. Many other transport companies use a tarpaulin to cover and protect items, but this extends delivery and collection times as it takes much longer to remove and replace. Our tautliners give easy access to the freight, meaning everything can be loaded and unloaded in a matter of minutes.
   

Free quotation for services
Finally, all good transport companies should provide you with a free quote before you order their service. There's nothing worse than paying for something and being surprised by how much it costs. This can be damaging for your business as it puts you over budget and leaves you in a tricky situation.
You'll be pleased to know that Compass Transport offers completely free quotations for all services before you buy.
If you're looking for a professional and experienced Brisbane freight company, then we're your first choice. With decades of work behind us and a fleet of secure trucks, we can transport everything and anything for you. Give our team a call today, or send us an email for your free quotation or to book your first shipment.