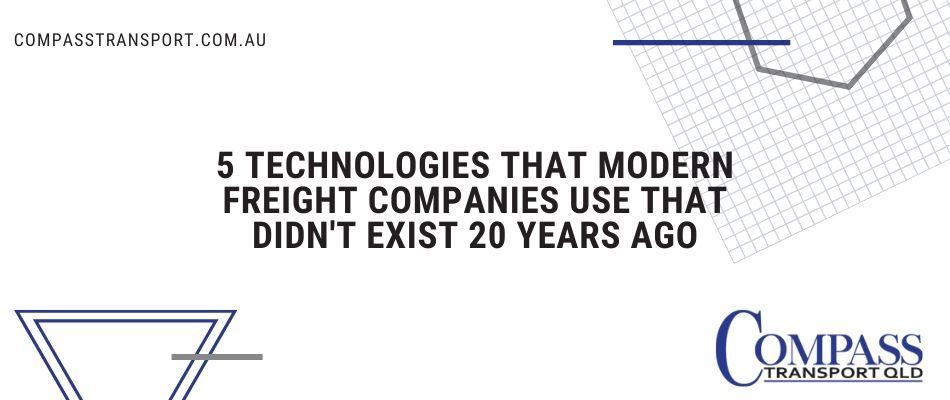 16 Mar

5 Technologies That Modern Freight Companies Use That Didn'T Exist 20 Years Ago

In recent years, technology has become so far advanced that it has transformed the way most industries do business. To keep up to date, ahead of the competition and able to meet customer demands, companies have had to embrace this technology and learn to adopt new technologies. This is no different in the freight industry.

Implementing new technologies usually means instant benefits to the company as well as new challenges and opportunities. While technology that has been specifically made for the freight industry is becoming readily available, there are others that have been adapted and used every day that did not exist just 20 years ago. The implementation of technology allows the freight industry to meet the increasing demands of its customers, improve services and reputation, and allows firms to stand out among competitors and achieve success. Some of these technologies the freight industry couldn't be without include:
Warehouse Management System (WMS)
In today's world, to achieve optimal efficiency levels in the freight industry, then it is vital to have a Warehouse Management System (WMS) in place. Having this kind of technology will enable you to automate parts of your business so that you can run more efficiently. You can save yourself a huge amount of time and money, especially if you have high-volume shipping operations. Not only this, but you can boost accuracy too. This is because the software you install will give you greater visibility when it comes to packing and shipping, as well as inventory counts so that the movement of goods and parcel management is streamlined.
Real-Time Systems
Real-time technology is very important in this industry as customers are demanding more up to date and accurate information about their shipment delivery. Today, you can provide this data through computers, tablets, and smartphones and update customers with their shipments location, condition, and expected delivery time whilst on the go. The availability of this data can improve scheduling and coordination, and ensure more efficient use of resources.
The Internet of Things
The Internet of Things or IoT is already shaking up the freight industry. IoT uses technology comprised of databases, readers, chips, and GPS cloud-based systems, among other things, and these elements are able to speak to each other and create a detailed and valuable outlay of your operations. The IoT means that we can say goodbye to things like confirmation receipts and scanning barcodes as the technology enables shipments to be received automatically. IoT advancements have not only made things easier in the freight industry but also more efficient, and as you know, efficiency is vital in this industry. For example, IoT makes it easy for a company to check on goods or a shipment, and it can be accomplished 24/7.
Cloud-Based Solutions
The freight industry has seen major advancements as the capacity of the private fleets has become more readily available. Thanks to cloud-based solutions, freight companies are now able to immediately reposition any empty containers without expensive IT infrastructure investments. The combination of both mobile applications and services based on the cloud has enabled freight companies to cater to both large and small businesses.
Connected Applications
The freight industry is a sector that can only exist and run with reliable and efficient means of transmitting data. Being able to communicate and pass on data is crucial for logistics. Technological advances have enabled numerous applications to communicate with each other, and although Electronic data interchange (EDI) has been used as communication for a long period of time in the freight industry, data transmission in real-time has been compromised due to the strictness of the standards and formats. Mobile apps can capture data on-roads and on the floor, and these apps can now communicate with the existing systems and have digitally transformed the freight industry.
Security
As we know, warehouse and logistics management solutions now use the internet and cloud computing to transmit data. This means that it can be vulnerable to cyber attacks, so the industry is not reliant on corresponding software are able to prevent these cyber-attacks much more effectively. Security in the freight industry has changed, and individual components are being constantly monitored for vulnerabilities.
Today, cyber threats can be effectively recognized, monitored, and rectified to stop any possibility of a cyber threat. Regular testing and security audits have become a permanent part of the freight industry.