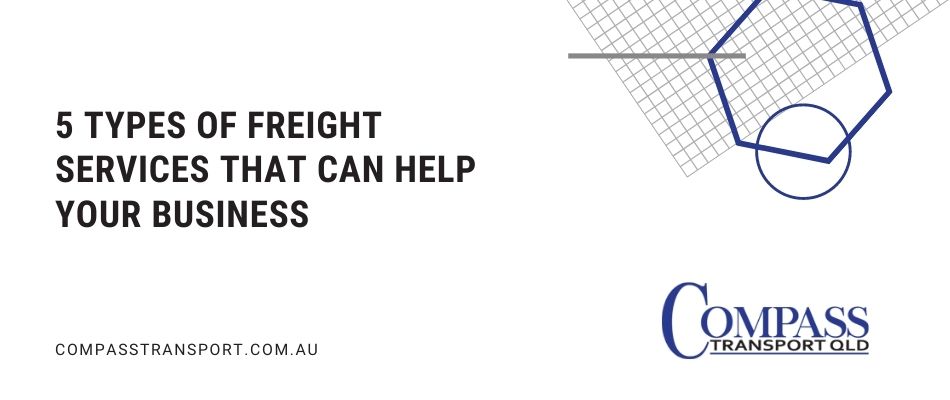 07 Jul

5 Types of Freight Services that Can Help Your Business

Everyone benefits from freight services in one way or another but how could they help your business? With a wide range of options available, the right freight services could enable you to reach new markets, offer enhanced services or simply lower your costs.

To ensure you're making the most of the freight options available, take a look at the selection of services on offer and find out how they could transform your business…
1. Same Day Freight
When you need something in a hurry, there's no time to waste. Overnight freight shipping can be ideal when you've got time to spare but a same-day service is ideal for when every second counts. With your freight collected and delivered in the same day, you can offer a wider range of services to your own clients or customers. Furthermore, the level of customer service or client care you're able to offer is enhanced simply by making use of this handy freight option.
2. Custom Freight
When standard services just won't do, custom freight shipments are the best – and only – solution. However, not all custom freight options are the same, so don't assume you'll get the same level of service from every freight company.
While many freight companies claim to offer custom transport options, a significant number of firms will turn down shipments that require a little more ingenuity than a standard shipment. Similarly, very few companies will be prepared to ship the 'ugly stuff' or go out of their way to find innovative solutions to your shipping needs.
Despite this, custom freight services are invaluable – when they're done right. Giving you the ability to ship anything, custom freight options enable your business to operate effectively at any time.
3. Express Freight
If a same-day shipment isn't going to cut it, then express freight services will. Perhaps you need a shipment to arrive at a specific time or maybe you need to get your shipment delivered in a matter of minutes, rather than hours?
No matter what the deadline, an express freight shipment provides the speed and flexibility you need to meet your time limits. Often, a major contract or valuable cargo is hanging in the balance when express services are required, so having access a reliable express freight service is critical for your business.
4. Long Length Freight
If the thought of trying to find long length freight companies fills you with dread, we're here to help. Long length freight refers to shipments that don't fit within standard transport carriers. Often used within the construction or transport industries, these types of shipments require specialist logistics.
While long length freight may not require a custom solution, it does need a specialist approach and access to niche equipment and transport solutions. With long length freight options, you can be sure that shipments of any size and shape can be accommodated.
5. LTL Freight
If you think that freight services are designed for major manufacturers and multinational corporations, think again. Less-than-truckload (LTL) freight options give you the opportunity to access the space and transportation you need, without paying over the odds.
Regardless of what size your shipment is or how little you need to transport, LTL freight services provide a fast, safe and secure way of moving cargo. Perfect for small businesses, sole traders and one-off shipments, LTL freight can help you to grow your business and respond to changing customer needs.
Making the Most of Freight Services
With so many different options available, making us of a range of freight services can enable you to expand your operations and increase your own profitability. When you can transport cargo more quickly and safely, the range of services your business can offer increases. Of course, this makes your brand more attractive to potential clients and gives you the scope to increase your client acquisition rate.
In addition to this, working with a freight company gives you access to experts in logistics and transportation. While consumer-facing transport companies provide valuable services, these are often ill-suited to businesses. Despite this, many smaller companies rely on consumer-based transportation services because they're unaware of the freight options available to them.
By taking advantage of the wide range of freight options, however, you can reduce your costs and access a more secure and reliable method of transport. To learn more or find out how freight services can help your business, contact Compass Transport QLD now on 0426 268 184 or email us at info@compasstransport.com.au