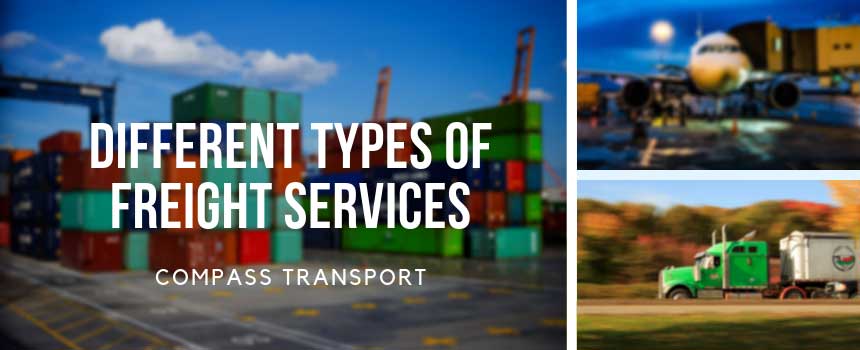 12 Jul

Different Types of Freight Services

There is no room for uniformity in the world of 21st century business.

Today's enterprises have increasingly diverse and complicated needs as the world of business and commerce continue to evolve in the face of technological and societal changes. As such, there's really no room for one-size fits all solutions in the world of freight services. If you have goods that need to be transported that are not uniform in their size, dimensions or deliverable timeframe, you need a forward thinking freight company that will utilise the right transportation methods for you.

We go out of the way not only to give each and every one of our clients a fully customised freight solution, we also ensure that they have all the information they need to make an informed decision that will adhere to their operational needs and benefit their business.

With that in mind, we thought it might be a good idea to discuss some of the different types of freight services available to you, the consumer and when is the best time to use them…
Overnight
Ever feel like every day is a mad rush to get to the close of the business day? Don't you just hate it when you can't clock off because you know that there are so many loose ends to tie up that you'll probably have to work late and miss dinner again?
Isn't it worse still when you arrive at your desk the next morning to find unpleasant surprises waiting for you?
We work tirelessly through the night to ensure that you can clock off on time and arrive at your desk in the morning to nothing but good news. What's more, we stay in touch so that you're always in the loop.
In instances where we are unable to pick up and drop off a package or series of packages in the same day, we offer overnight freight services (dependant on availability). These are perfect if you have something that needs to be moved out of state.
Same-Day
Although overnight services are great for goods that need to travel a long way in the shortest time possible, we endeavour to collect and deliver on the same day wherever possible. In fact, we're same-day delivery specialist and offer this service as standard for deliveries throughout Brisbane, The Gold Coast, Toowoomba and The Sunshine Coast. Unlike many of our competitors we are able to guarantee same-day delivery and keep you in the loop personally. All while giving your assignment the personalised care and attention that it deserves.
This is the perfect service for delicate or perishable goods which may be compromised by an overnight journey.
Why are we able to offer this service when our competitors can't? Simple! Because we don't cut costs in our operations. We have the best vehicles and the best drivers.
Express
While many of our customers find that same-day delivery is the perfect freight solution for their needs, there are some clients who need to get their goods to their destination even faster. This is why we offer an express freight service to our clients for whom every single minute counts.
When you or your customers need something delivered faster than fast, our express freight services get even abnormal loads where they need to be on time with no unpleasant surprises. We've invested heavily in high performance, reliable vehicles delivered by expert drivers to ensure that your delivery gets to its destination as quickly as possible without sacrificing safety.
Our Mitsubishi Fuso Curtainside with 2t tailgate lift trucks are 10 pallet tautliner / curtainsider vehicles and the ultimate choice for getting your delivery to its destination intact and on time.
Who are we and what do we do?
We are Compass Transport Queensland and we deliver custom freight solutions across Brisbane, The Gold Coast and The Sunshine Coast as well as further afield.
We believe in delivering our clients a fully customised freight service that's fully tailored to the needs of our clients. We pride ourselves on our ability to ship everything, even the complicated and atypical loads which our competitors won't touch.
We pride ourselves in combining the ultimate in efficient freight delivery systems while still affording our clients that all-important personal touch and delivering the highest standards of customer service.
Want to know more about what our range of fully customisable freight solutions can do for your business? We'd be delighted to talk with you further.
Click Here to get in touch with us today!
We can't wait to start working with you.