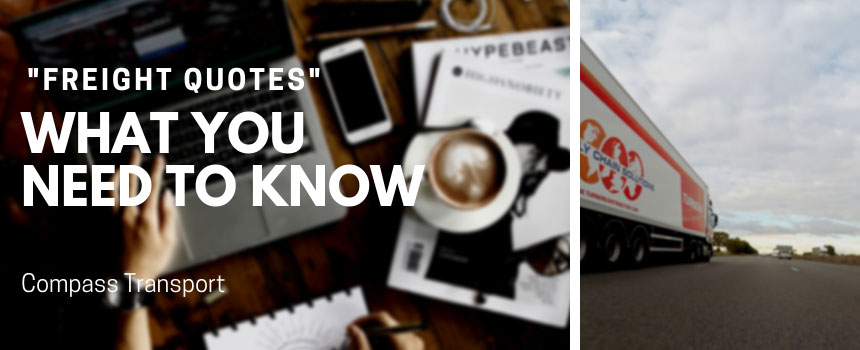 24 Jun

Freight Quotes: What You Need to Know

At Compass Transport, besides our ongoing relationships with our satisfied clients, we're used to being a customer's first introduction to the world of freight. As such, we've also met many who aren't used to figuring out how to get the best and most accurate quote.

Without the information that we need, we cannot provide the kind of quote that you deserve. As such, we're going to take a look at what you need to know about a freight quote and, in particular, what we need from you.
Size
The single factor that most affects your price per mile is the size of your shipment. We're going to need to know the volume, in particular. The amount of space that your goods are taking on our vehicles is key in determining what your freight quote will look like. Take the time to measure the volume of your shipment by figuring out the length, width, and depth. You can provide us with just the total size of the shipment alone, or you can send us the dimensions of the individual packages in the shipment. This can help us figure out the best placement for them to ensure that we use only as many vehicles as we need.
Weight
While it likely won't impact your costs quite as much as the size, the weight of your shipment also has a role to play. In some cases, weight will play a determining role in your freight quote instead of size, especially if the weight is greater than the volume. The weight of your goods directly affects the costs of shipping, as vehicles need to use more fuel to transport more weight from one place to the other. When you get in touch with us, it's a good idea to have already weighed your entire inventory so that we can get back to you with a clear, accurate quote as soon as we possibly can.
Distance
This might sound obvious since you need to tell us where we're picking the goods up from and where they need to go, but you would be surprised by how many potential clients start without telling us the distance of the journey their goods are going to go on. Specifics of where the goods are going to is necessary as well. For instance, when it comes to direct deliveries to the homes of the average consumer, certain vehicles such as large trucks aren't allowed in some residential area. Telling us the starting point and ending point of the journey is essential for ensuring that we're able to figure out not just the costs, but the most cost-efficient and appropriate way to get it there.
Goods
In the vast majority of cases, the goods that you're transporting aren't going to affect your costs too much. However, there are some goods, whether they're potentially volatile or exceptionally fragile, that require a little extra service to ensure they get from A to B in good shape. Compass Transport is a flexible provider of freight services, and we will be able to help you manage specialized deliveries of all kinds. However, if extra steps need to be taken to ensure that your goods are secure, then this might come at some cost. We will do what we can to ensure the added fee isn't too much of a sting, but we recommend telling us exactly what is that we need to transport to ensure you get both an accurate quote and a safe delivery.
Which service you're using
Besides the size of your shipment, the element that will affect its price the greatest is how soon that you want us to get it from A to B. Same-day collection and delivery is our standard service, so you shouldn't have to worry about paying more for that. However, overnight shipments outside of our usual service areas may cost you a little more, since it's taking our vehicles outside of their normal routes. Similarly, if you're paying for express delivery, this might cost a little more. However, for those times that you need something or your customer needs something as soon as humanly possible, our express deliveries can ensure that urgent orders are actually treated with urgency, not spending time lying in a warehouse.
Compass Transport offers competitive, transparent, and honest quoting to help you see exactly how your transport costs figure into your cash flow. Feel free to get in touch with us, with all the above details prepared, and we will be glad to help you ship your way to success.