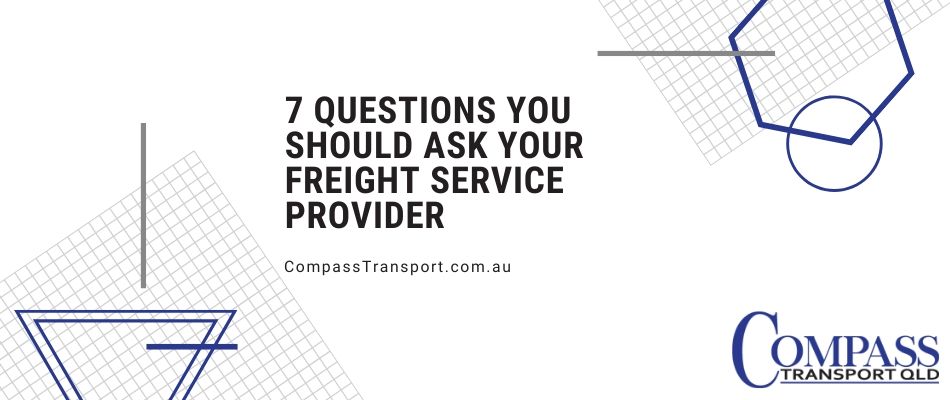 14 Jan

7 Questions You Should Ask Your Freight Service Provider

Whether you are shipping domestically or internationally, you need a freight service that you can trust. You may not be familiar with what you are doing, but the freight service that you are using will know what to do – they're the experts! It's not the same as picking your local courier; there is so much more that's involved with freight shipping and you should consider the processes that is involved.

It's important, then, that you ask your freight service provider some key questions. The question is which ones you should ask? Without the questions below, you could find that your freight service is confusing and difficult to choose from. In that respect, the seven questions below are going to help you to assess whether you are using the right freight service provider. Let's take a look:
How Extensive Is Your Network?
Your freight service of choice is only as good as the network they use. Whether they are local or go further afield, you need to work with someone with an established network. It tells you how they are meeting the demands of their clients as well as their requirements, and it also means more options for you in terms of shipping.
At Compass, we are a Brisbane based transport company and we are proud to serve the local area and its businesses. We can deliver within Brisbane all the way up to the Sunshine Coast and the Gold Coast, and inland towards Toowoomba.
What's Included In The Cost?
Most shipping companies use quotes to help you to understand what your shipping will cover. It's important to understand your quote as well as how long it'll last for, and you need to ask what services are included.
At Compass, we are a local and innovative transport company and we know that our customers all have different needs. To find out what your quote includes, give us a call. We will always be honest and transparent in all that we offer you.
How Do I Track My Cargo?
You need to know that you've picked the right company, and the right company will always enable you to track your belongings. Tracking is the most valuable feature you could find in freight services, and knowing the delays and status of your cargo is going to help you to go a long way. Technology has come in leaps and bounds over the years, so you know that your freight transport company is going to deliver your goods on time, every time. At Compass Transport, we believe you need to know where your goods are going, and we'll personally keep in touch with you to update you on the details of your deliveries – this can give you peace of mind the whole way.
Do I Need To Pack My Own Cargo?
There are many freight services that offer you the option to have your cargo packed and loaded for you, and preparing your own cargo can be hard to do – especially if you're not aware of how to pack it correctly. Give Compass Transport a call today about your packing needs and let's see how we can assist you.
My Shipment Is Urgent – What Can You Do?
The best thing about using freight services is that they can get your job done at speed. You can choose from a range of delivery options to get the best outcome.
At Compass Transport, we have options! We offer a variety of delivery services, and if you need Same Day Delivery, we've got you covered. We also offer an Express delivery service, and an Overnight Delivery service, too. Whatever you need, we aim to exceed your expectations.
Do I Have to Organise My Documents?
You need to reduce stress when it comes to shipping, which is why you're paying for freight services in the first place. The one thing that you can't get away from is paperwork! You can ask if your freight service provider could take care of all the relevant paperwork for you, and the best companies out there are ready to handle this. Always go with the right requirements, too. Ask us today if Compass Transport can help you with your shipping paperwork!
Is Everything Insured?
Shipping cargo is not always easy, and accidents can and do happen. However, professional freight services are ready for this and will be fully insured when this happens. You must purchase cargo insurance before your shipping has left you, and whether you buy this separately or speak to your freight service company, it's not a step to skip.
With the right communication, you will be ready for anything. Give Compass Transport a call today and let's get your belongings shipped!