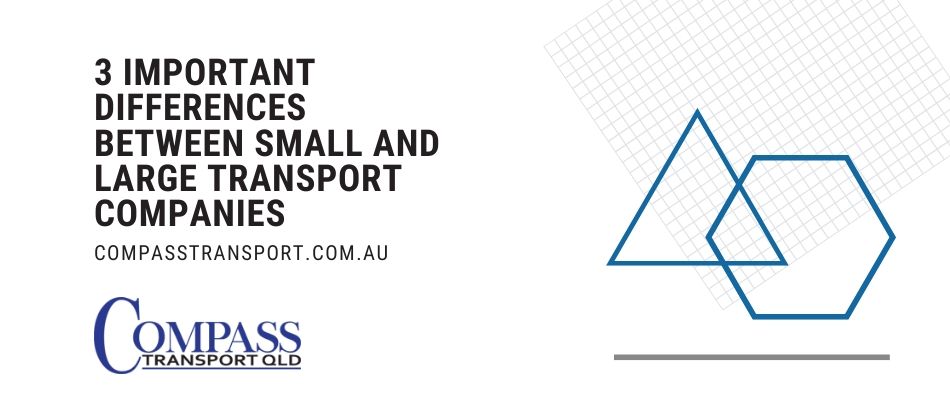 28 Jan

3 Important Differences Between Small and Large Transport Companies

When you are thinking about hiring a company to transport your goods, there are many considerations to make. Although all transport companies are, in essence, doing the same job, there are vast differences between them that can mean the difference between peace of mind and worry.

If you are looking for that extra care, with staff who are motivated to ensure the timely and safe delivery of your pallets, you need to think about the company you use. Is it a small firm like Compass who can provide you with the one on one care you want? Or are you looking to go cheap and trust your wares to a huge transport company who's drivers are not motivated to do their best? The choice is yours. However, to get you thinking, here are some differences between small and large companies which may sway your opinion our way:
Employee culture
In a small company, the manager and owner are going to have a personal relationship with all staff members. The onus is on the manager to ensure that the team is incredibly professional and well turned out as they see them every day. In other words, there is no room for a bad employee to hide in a small company. A small firm suffers more than a large firm if things go wrong. So, if an employee does not exude the image, and work ethic, and general level of care to the loads that the firm wants, they are out. This means that there has to be a certain level of individual pride that is required. Also, it has to be maintained at all times.
Within a larger company, because the owners are usually swanning off in some resort, there is less care given to individuals. Employees can get away with cutting corners and doing the bare minimum, something that cannot be accepted in a small company. A smaller firm takes on a culture of family is expressed. In this atmosphere, they are all expected to work together to achieve the goals set out. Future plans will be discussed with employees who will feel more a part of the company emotionally. At the end of the day, workers who want to do a good job to expand the business they feel a part of, has to be better than a drone in a large corporation going through the motions.
Service
From the beginning to the end, each customer is cared for with that personal touch in a small company. We will treat you as an individual rather than a statistic, and you can rest assured that when you call you will be speaking to someone who knows your case and can update you on the progress with confidence. If you require it, we can contact the driver without delay to get an exact ETA.
How many times have you called a large corporation and had to wait hours, if at all, for an update? And every time you finally get through, you get someone different, and you have to explain the whole situation over and over again, like a parrot. All the while, you are worried something has gone wrong as they are late in delivering your load, for example.
That does not happen in a small company like Compass. Customer service is something we pride ourselves on. In addition, if you require a same day or even an express delivery service, you can rest assured that we will get the job done. We will discuss options with you, and as a small firm, we can provide more catered, and individual service is that's what you require. Your needs are our needs, we want the same result, and we will do this for you with less bureaucracy, meaning there are less annoying forms to fill in.
Reliability
For a transport company, if we weren't reliable, we would go out of business. We understand that getting your freight from A to B in the timescales you have dictated is an absolute must and we will go above and beyond to achieve this for you. In a small company, we will take whatever you want. You will not be told by some faceless automaton that 'we don't do that' then proceed to talk to a brick wall. A small company can be relied upon to shift what you want. From those commercial kitchen equipment loads, pallets, long loads, and all those other myriads of ugly things big companies won't touch. So, contact us to discuss a solution, if that sounds like you.