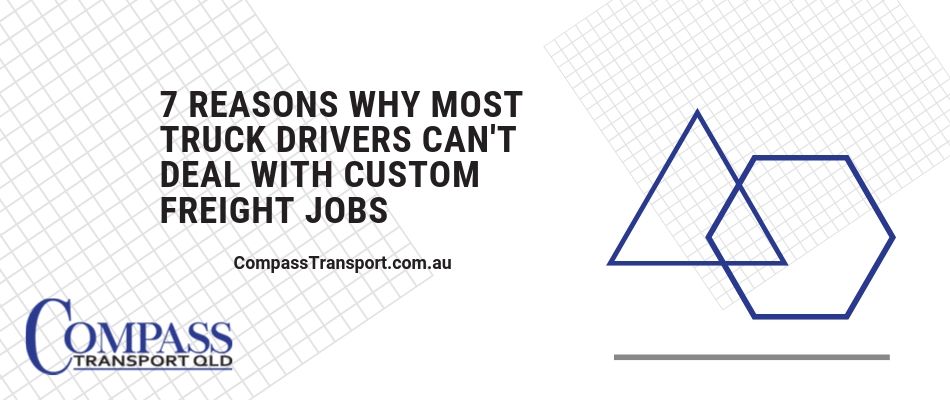 17 Oct

7 Reasons Why Most Truck Drivers Can't Deal with Custom Freight Jobs

The demand for custom freight jobs is growing at an exponential rate, which is why lots of truck drivers now offer those services. Unfortunately, many of them fail to deliver the goods on a consistent basis.

Want to know why? Keep reading.
#1. Lacking Human Qualities
When a business requires custom freight services, they need a service from a delivery team that shows an appreciation of those specific commercial needs. Essentially, if you're looking for freight services, you need a team that understands you – not just the process itself.
Sadly, a large percentage of truck drivers work solely on the concept of hitting statistical milestones rather than thinking about the human touch that's needed to establish an agreement that works for all parties. When this winning foundation isn't in place, any attempts to build a solid business relationship are destined to fall flat.
#2. They Cannot Handle The Speed
When handled correctly, custom freight jobs open the door to a host of new opportunities. From a company's perspective, it offers the chance to provide overnight or even same day delivery services. In today's climate, where consumers demand instant results, it can make all the difference.
A lot of truck drivers and companies aren't capable of satisfying those speedy solutions. When this is the case, businesses are better suited to using the express services offered by Australia Post. There is an undeniable need for speed, and an inability to provide it is a problem for many trucking companies.
#3. They Don't Offer Tracking
Businesses seeking custom freight delivery services often want to provide their customers with transparency. This is impossible to do when truck drivers do not offer clear communication at every step of the journey. A lack of delivery tracking facilities is, therefore, an issues that prevents truck drivers from dealing with the needs of custom freight jobs.
Automated systems can keep company and end user updated with the whereabouts of packages at all times. Delivery confirmation and customer signatures are vital pieces of data for the business while these timing details can be used to support accurate reporting. Services without this tracking will suffer.
#4. Do Not Cover A Large Enough Area
Many courier services lose a lot of business by limiting themselves on a geographic level. Sometimes it's a personal preference while there are other situations in which it is a practical necessity. Either way, it prevents them from providing a great custom freight service.
When the company needs to send packages across the country, it needs to know that the custom freight delivery service can handle the task. Those without the capabilities or experience should be avoided in favour of a reputable firm that boasts a track record of successfully completing cross-country assignments.
#5. Cannot Provide An Affordable Service
Companies using custom freight services need value for money. Finding a delivery firm to provide this is easy when you have a truck's worth of items to ship to the same city. However, when only a small number of items are to be delivered, trucking firms that cannot combine it with the orders from other businesses will struggle to provide a cost-effective service.
The trucking companies without a big enough client base will continually struggle to satisfy the practical and financial aspects of custom freight delivery. Conversely, specialised freight services that boast a range of vehicles and an extensive client list are built for success.
#6. Don't Have The Equipment
First and foremost, the truck driver needs a suitable vehicle for the job at hand. Given that many items sent via private couriers are large, it's equally important that the trucker has the right loading equipment. Wasting hours with the loading process will render the job financially unviable for courier or company.
In addition to the right loading equipment, the truck driver should boast the physical fitness to complete the loading jobs. In many cases, a colleague will be needed to. Truckers that try to take on too much for one pair of hands are destined to fail.
#7. They Don't Have The Passion
A lot of generic truckers are happy and comfortable in their ways. They do not have any incentive to extend their services to custom freight jobs, doing it solely because they've been told to. That lack of enthusiasm is evident in every aspect of the task, and causes major problems.
The speed of the service can be harmed. The quality of product can fall. Even the customer care service to the end user may suffer. Custom freight jobs require a level of specialised expertise and should be completed with a positive attitude. When either of those ingredients are missing, the recipe for sweet success cannot be found.