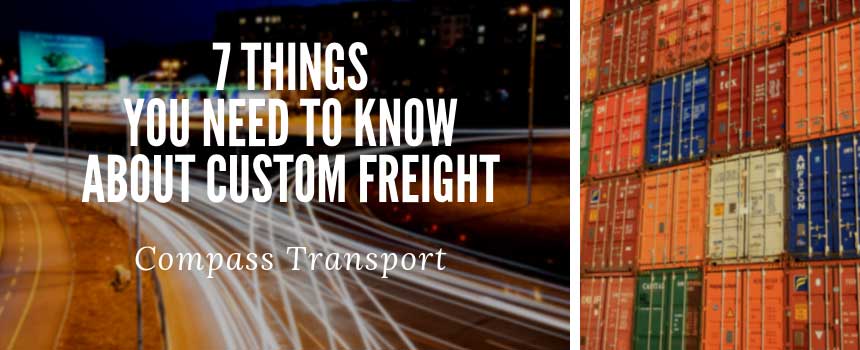 22 Jul

7 Things You Need To Know About Custom Freight

Not everything that needs to be transported across the country has the same needs. Some loads are atypical in their size, dimensions, fragility and timeframe. Australia is a vast and topographically diverse country and sometimes navigating its terrain with your goods within a rigid timeframe requires an expert touch.

That's why you need a custom freight service. A service that treats your load with the care, attention and expertise that it deserves.

If you have something abnormal, delicate or special that needs to be transported across the country, here are some things you need to know about custom freight solutions…
Business is changing, freight needs to change too!
In an ever changing business landscape, custom freight is fast becoming the only logical solution to keep pace with a changing commercial and technological climate. Business' logistics and haulage needs are growing more diverse. Custom freight is all about acknowledging that and anticipating the needs of clients.
It minimises your risk
Whatever you do and whatever you need to transport, it's more than likely that risk management is a high priority for your operation. The beauty of custom freight solutions is that they are completely tailored to your needs. They don't try and force a square peg into a round hole. They are based on a comprehensive understanding of the needs of the client's needs rather than the operational needs of the business. By offering completely flexible and scalable freight solutions, we can go a long way towards insulating our clientele from risk.
You can get RFQ or RFP solutions based on your needs
We understand that every business is different in its operations, which is why we provide Request For Proposal (RFP) and Request For Quotation (RFQ) solutions depending on your unique supplier qualification criteria. So you can proceed with absolute confidence.
It's perfect for time-sensitive assignments
Some assignments are more time-sensitive than others. There will be some occasions where fast freight solutions are advantageous and others where they are absolutely imperative.
We have invested heavily in our vehicle infrastructure and driver recruitment and training to be able to offer same-day collection and delivery as standard. While other freight companies would stop there, we recognise that sometimes even that isn't fast enough. That's why we offer an express service that guarantees urgent orders get to the right place, at the right time, without the incident. It's the perfect solution for high profile circumstances like product launches.
The little things can make a big difference
You'd be surprised at how the little things can add up to make a big difference when it comes to custom shipping. For example, did you know that even something as simple as using a curtainsider / tautliner truck can save over an hour in delivery times when compared to a truck that uses a traditional tarpaulin?
Tarpaulins can take a long time to remove and replace, especially in rainy conditions. Tautliners, on the other hand allow easy access to all parts of the freight, making it easier to load and unload partial loads, while making for faster multi-drops.
In the world of custom freight, minutes can (and so count). That's why we ensure that we have the equipment to offer the fastest and most reliable solutions.
Shipments are completely trackable for your peace of mind
Custom freight puts you in the driver's seat. When you have an important package or set of packages on the road, the last thing you need is to be kept out of the loop. That's why we ensure that all our shipments are completely trackable to ensure full transparency and afford our clients absolute peace of mind.
We know how stressful it can be waiting for delivery confirmation which is why we keep you in touch personally with the details of your deliveries. No dealing with unreliable automated systems. Talk to an actual human being who can answer your questions and respond to your concerns.
Custom freight solutions are personal solutions
Are you tired of not feeling listened to by vendors and service providers? We understand the value of the personal touch, which is why we endeavour to deliver each and every client a personal and personalised service. After all, how can we properly respond to your needs if we don't listen to you?
Who are we and what do we do?
We are Compass Transport Queensland and we deliver custom freight solutions across Brisbane, The Gold Coast and The Sunshine Coast as well as further afield.
We believe in delivering our clients a fully customised freight service that's fully tailored to the needs of our clients.
Want to know more? We'd be delighted to talk with you further. Click Here to get in touch with us today!