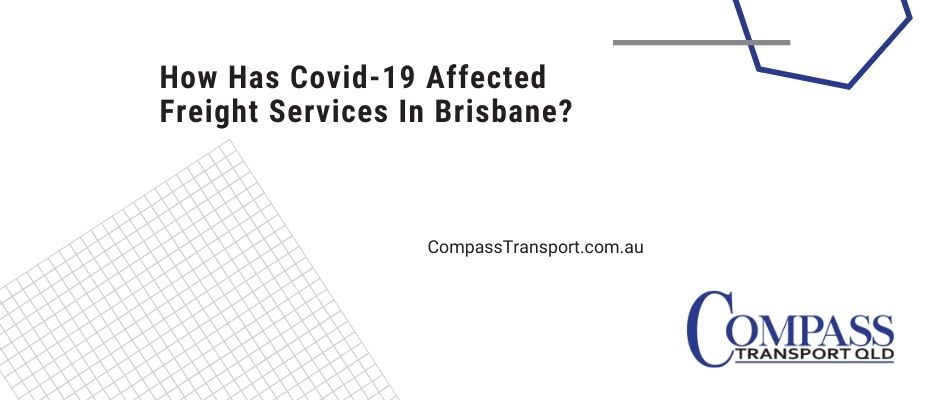 19 Jan

How Has Covid-19 Affected Freight Services In Brisbane?

Many industries all over the world have been affected by the COVID-19 pandemic and freight services in Brisbane are no different.

According to Australia's National Freight and Supply Chain Strategy, there was a drastic decline in international air passenger and air freight services which will come as no surprise as borders were closed this year. From June 2019 to June 2020, international air freight volumes experienced a decrease of 23 per cent, and domestic freight volumes on scheduled flights were also down 16 per cent, however, Brisbane was only down by two per cent, and by June 2020, the majority of international flights were freight-only.

The same can't be said for road and rail freight as this did not decline as significantly and actually aside from disruptions due to border closures COVID-19 actually impacted the nature of freight by greatly accelerating the trend towards online shopping and home deliveries which has meant that the industry has been able to operate although through varying levels depending on lockdowns.

Throughout the pandemic, general road freight has been considered an essential service, but this doesn't mean that it hasn't been impacted negatively. For example, many businesses that might have used road freight services and been clients that freight companies would have relied upon have had to close, meaning that there are fewer businesses and clients for the freight industry. Then there are the ever-changing restrictions which have meant that things haven't run smoothly for anyone. However, as the pandemic has gone on and people and businesses have adapted, then all businesses such as freight services who have stayed open have been required to create a COVID Safety plan.

While the implementation of some of these plans has ultimately slowed things down because in the freight industry it means extra security checks, hygiene, and social distancing measures, it has meant that the industry has been able to carry on. Road freight workers who often have to travel within and between hotspots also have to undergo mandatory Covid-19. However, it is these measures that are essential to an essential service and have meant that the industry has been able to keep Australia moving.

While road freight services have always been important in Australia, due to COVID-19, the demand for groceries and other goods has increased which has meant that the freight industry has struggled to meet delivery requirements. There have also been staff shortages and service delays which have had a negative impact on the industry. Despite this, road freight still seems to be the best and safest option if you are looking to move goods. You can rely on road freight unlike other methods because you don't have to consider flight times, train times, or cancellations which makes for quicker deliveries too. With road haulage, there is also less time spent handling and loading freight.

Despite the pandemic, road freight means you can still get your deliveries the next day, it means you can get them if you're in a remote or rural area and it is an all-purpose option for transportation, so you don't need to use multiple carriers for the same items. Road freight also offers a reduced risk of damaged cargo as the driver's manual handling allows increased control during transit. This is why motor vehicles are always used to transport and deliver fragile goods in a safe and secure manner. Road transport is also the most effective way to deliver goods across short distances, which is not only fast but also extremely cost-efficient.

So, what is next for the freight services beyond Covid-19? In Brisbane, the rest of Australia, and the rest of the world, the freight industry will be looking toward more digital solutions and COVID-19 will only accelerate this. While that physical movement of getting goods from A to B will always remain, technology is changing the way that carriers interact with customers, thus raising the bar for speed and experience. For companies to compete with and to continue to be at the top of their game, it's going to mean investments in technology, such as the Internet of Things (IoT), cloud computing, automation, and data analytics. Looking further ahead into the future, the road freight industry may be a place where robotics, drones, and autonomous vehicles rule which would significantly reduce the spread of any future viruses, so watch this space.